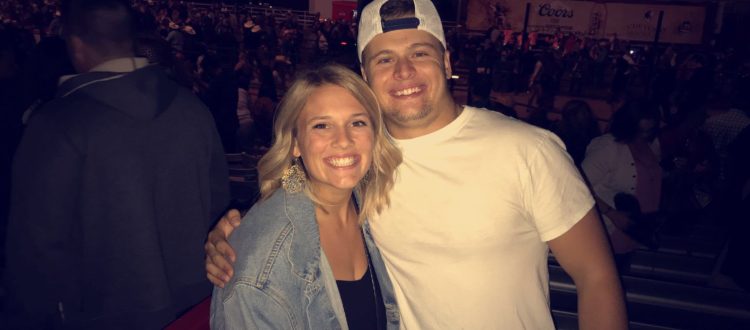 Modig Fitness Member Profile – Brady Barker & Aly Birnbaum
1 Where did you grow up?
Highlands Ranch, CO (Brady)
Loveland, CO (Aly)
2 How long have you been CrossFitting?
1 year (Brady)
1 year as of July (Aly)
3 What is your favorite WOD?
JACK Hero WOD (Brady)
100 Burpees for time (Aly)
4 What's your favorite lift?
Squat Snatch or Bicep Curls (Brady)
Thrusters for sure! (Aly)
5 What's your least favorite CF move?
Thrusters (Brady)
Squat Snatch (Aly)
6 What do you think is the biggest myth about CrossFit?
Myth: CrossFit is intimidating. Fact: CrossFit is fun and scalable to any fitness level. (Brady)
It drives me crazy that before people even try CrossFit or research it, they assume it's dangerous and you are more prone to injuries. NOT TRUE. CrossFit has helped my body in so many ways. Being an athlete my entire life I used to always have so many weird pains, but CrossFit has taught me how to properly take care of my body pre and post workout to make my body stronger and prevent injuries. (Aly)
7 What's your favorite non-CrossFit activity?
Hiking! (Brady and Aly)
8 How have your nutritional habits changed since starting CrossFit?
I now eat to fuel for my performance in the gym ☺(Brady)
Unfortunately, this is still something I am working on day by day. My biggest weakness right now is nutrition and it definitely holds me back from being able to perform better at CrossFit. (Aly)
9 What's your nickname?
I don't have one! (Brady)
Birnbaum…you'll probably always hear Brady call me this 🙂 (Aly)
10 What do you do for a living?
I am a middle school and high school PE teacher ☺(Brady)
I am a 2nd Grade Teacher at Grant Ranch. (Aly)
11 What's something about you that people don't know?
I love to cook! I can cook you something delicious that's also healthy and also some pretty dangerous cheat meal food! (Brady)
I did competitive cheerleading for 16 years and competed at the collegiate level for 4 years. (Aly)
12 How has CrossFit (and or Modig Fitness) impacted you?
CrossFit has helped fill a hole in my life where athletics once was. I used to hate working out after I retired from sports. CrossFit has helped me find an awesome group of people that push me in my training and have fun while doing it! At Modig I found a community of friendly and fun people when my girlfriend and I moved to Denver. It made the transition into a new place much easier! Thank you MODIG! (Brady)
It has made one of the hardest years of my life feel like it has purpose. It has given me a place I can go and relieve my stress everyday. (Aly)